Opal Class
Welcome to our class page! We are mixed Year 4 and Year 5 at Hetton Primary School and our teacher is Miss Oldroyd.
Underground Overground
This term we are going to be learning all about mountain ranges across the world.
Wednesday 22nd September
Today we worked in groups to make our own mountain ranges.
We had to create them using tinfoil, papier-mâché and then we painted them.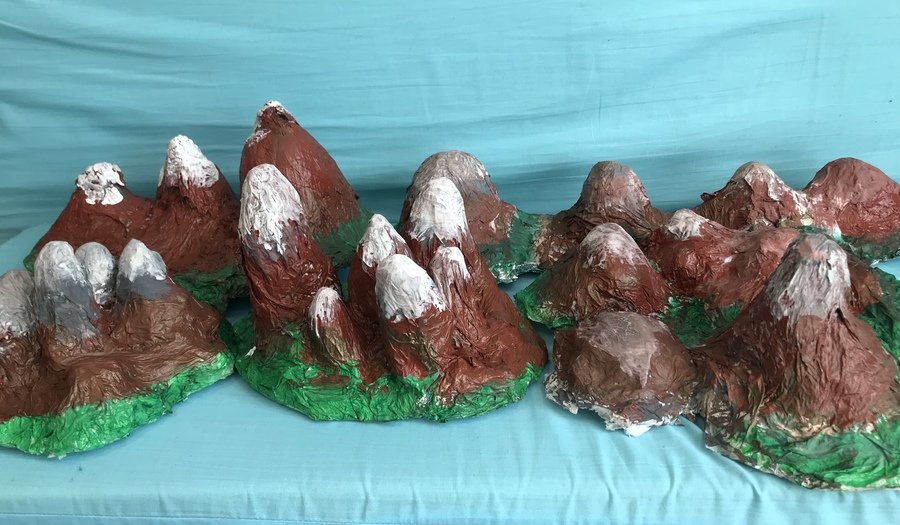 Take One Picture
This week we hosted our own Art Gallery to showcase our amazing work inspired by
Edvard Munch's famous painting 'The Scream'. We really enjoyed creating
our own masterpieces. Thank you for coming along to support our class.
We hope you enjoyed coming to see and purchase our artwork!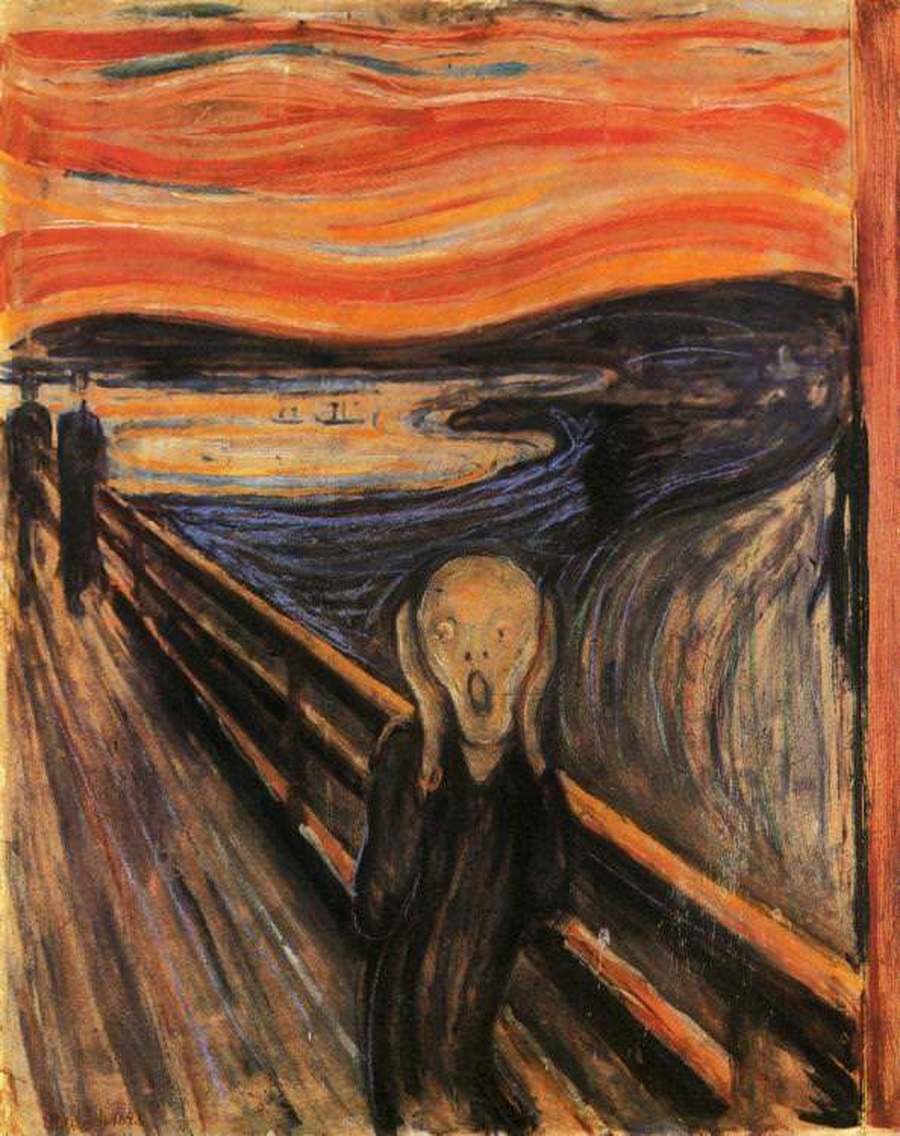 Monday 1st May

Today we visited Seven Stories in Newcastle. We had a great day learning about the author
David Almond and the book Skellig (which we will be looking at for the next few weeks!)
We really enjoyed exploring the different floors. Opal Class as always were amazing and
a credit to our school. They always make me proud with their enthusiasm for learning!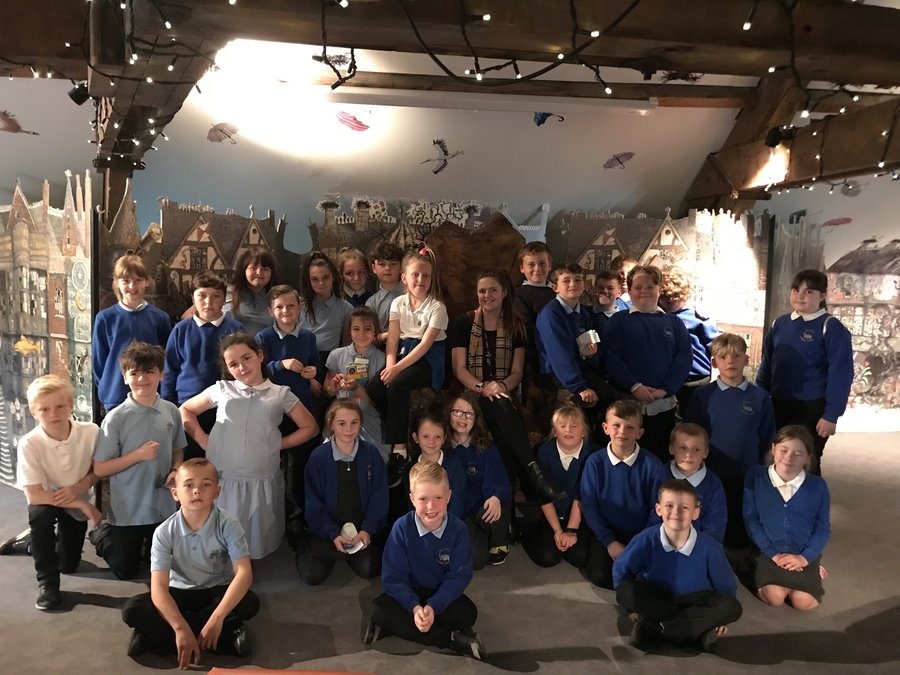 Monday 29th April
This afternoon we visited Hetton Comp for a Cricket competition.
The children had a wonderful afternoon and showed amazing sportsmanship.
We even had a team come in 1st place! Well done Opal Class!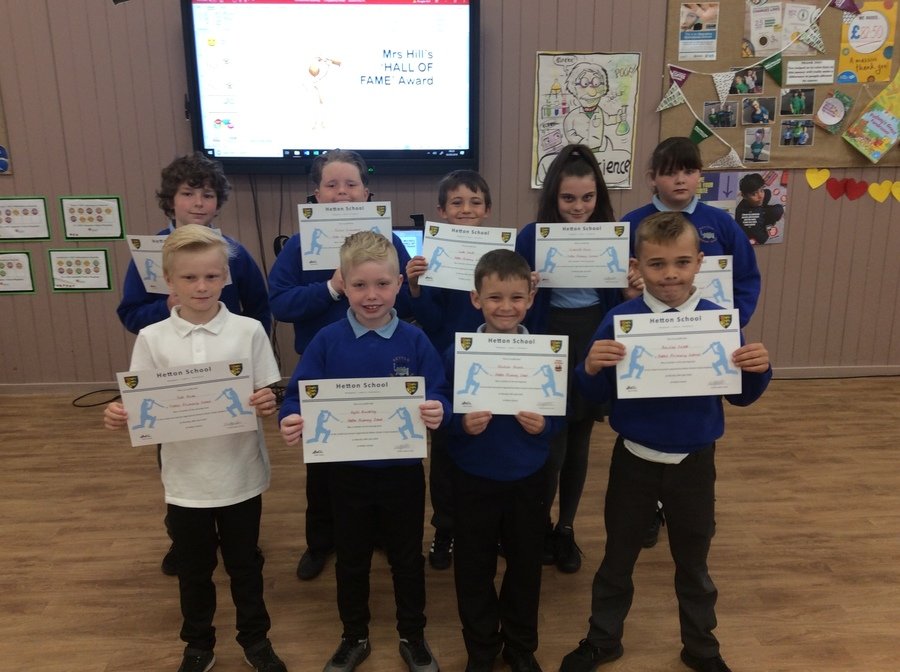 Tuesday 23rd April
This afternoon we started a new Science topic learning about the digestive system.
We worked in groups using play-doh to create a model of it.
Leonardo Da Vinci
We are incredibly lucky to be visiting the Sunderland Winter Gardens to commemorate 500 years since the
death of Leonardo Da Vinci. During this unit we will be drawing a very famous Leonardo Da Vinci painting.
Monday 25th March
A fantastic sketch of the Mona Lisa by an extremely talented, future artist in Opal Class!
Tuesday 19th March
Today we visited the Leonardo Da Vinci exhibition. We got the opportunity to look at
some of his original artwork (which is over 500 years old!), take part in a drawing workshop
inspired by Leonardo Da Vinci and explore the museum! It was a great experience!
STEM Fortnight
For the next 2 weeks we will be celebrating STEM Fortnight alongside British Science Week.
Check back to see some of the amazing things we get up to!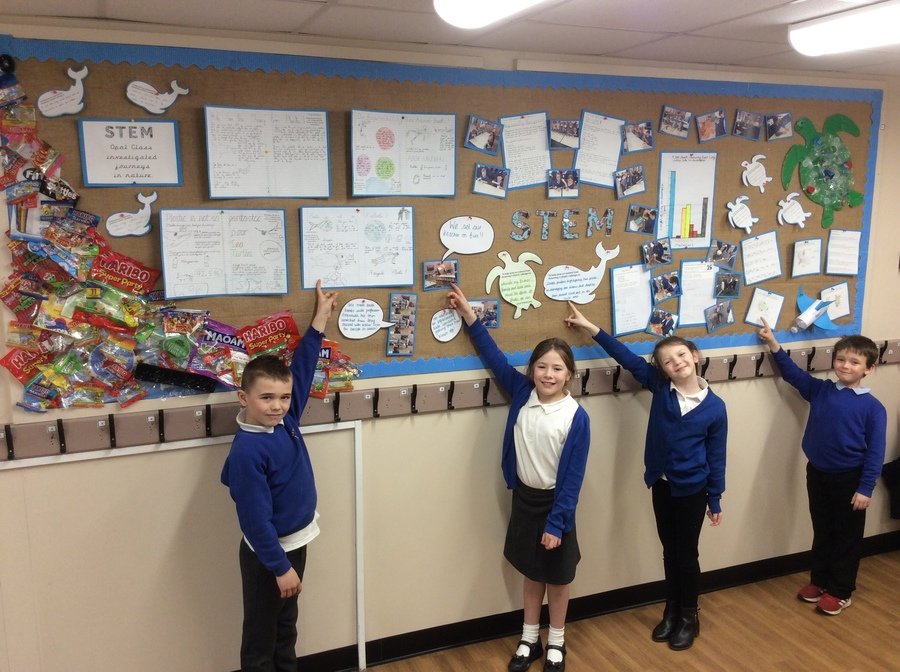 Monday 11th March
This week we will be investigating plastic and the impact it has our own world.
This afternoon we made Bioplastic. Bioplastic is a plastic made from natural resources
which decomposes quickly meaning it is better for the environment.
Did you know a single plastic bag takes 1,000 years to decompose?
Tuesday 5th March
Today we visited Sunderland University as part of our STEM Fortnight.
We had a wonderful day and came away very inspired.
The children as always, behaved beautifully and were a credit to our school!
Monday 4th March
Today marked the beginning of our STEM Fortnight.
We were very lucky to take part in an exciting workshop with Professor Onesmith.
We really enjoyed taking part in some crazy Science experiments and
even got to make and bring home our own slime and bath bombs!
Scroll down to to watch videos of some of the experiments we got up to!
All dressed up...
This term we are learning all about the Ancient Shang Dynasty civilization.
Take a look at what we have been learning about below.
Wednesday 27th February
Thank you for coming along to celebrate our learning at our Banquet this afternoon.
We hope you enjoyed our Shang Dynasty dance, our delicious food and learnt a lot.
We really enjoyed ourselves, we hope you did too!
Wednesday 27th February
Today we made Chinese Spring Rolls to serve at our Shang Dynasty Banquet this afternoon.
We had lots of fun preparing them and can't wait to try them.
We hope you can all make it this afternoon to celebrate our learning this half term!
Thursday 14th February
This week we have been writing non-chronological reports about our own dragons.
In the afternoon we had a go at sketching dragon eyes and then used clay to make our own.
I'm sure you'll agree they look wonderful and their writing is incredible!
Well done Opal Class!
Friday 1st February
Today we celebrated number day in school.
Here are four children from Opal Class who demonstrated amazing maths problem solving skills.
We truly do have some mathematical geniuses in our class!
Number Day Challenge
See if you can tackle this problem, if you can't you know who to ask for help!
Replace all of the letters with a different number to make this calculation correct.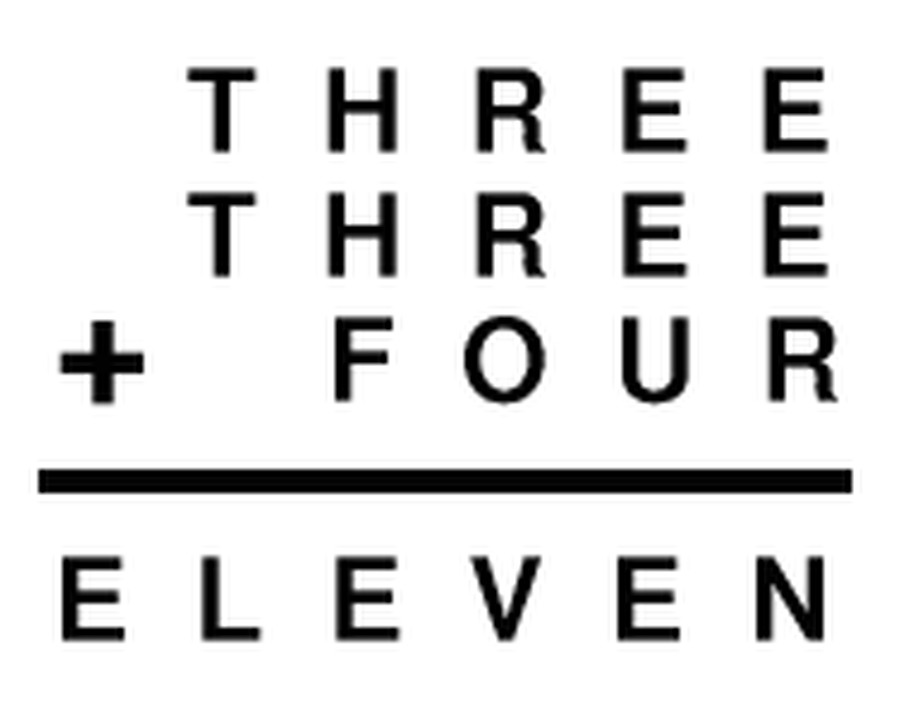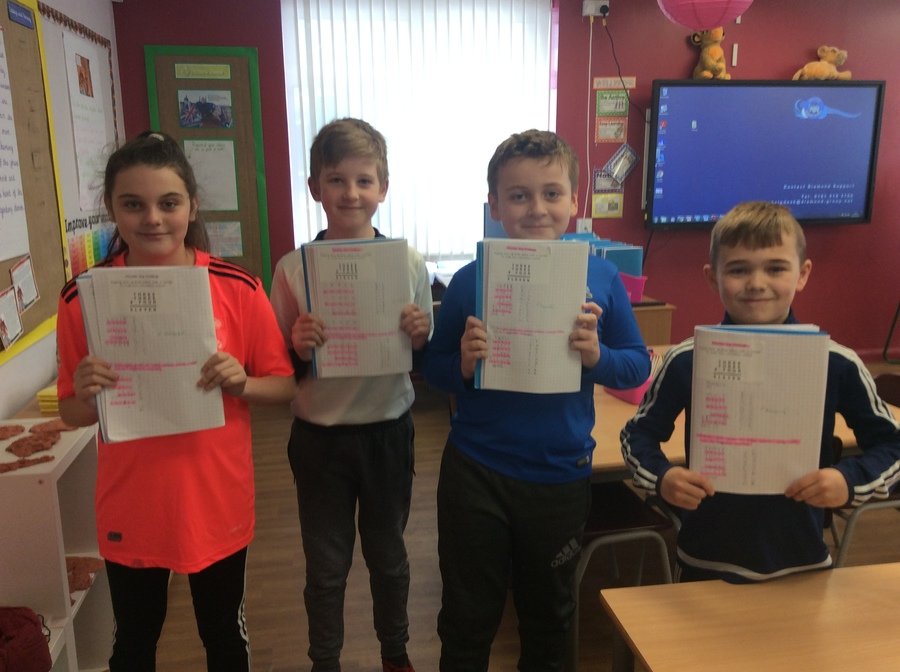 Friday 25th January
Children in Opal Class couldn't believe that people actually used to make string telephones!
We had so much fun in Science this afternoon investigating how we could make them the most effective.
Ask us about the Science behind the string telephone!
In Science we have been learning about sound and how it travels.
We have been focusing on presentation and improving our scientific explanations.
Here are some examples of wonderful Science models and explanations on display in our classroom.
Monday 21st January
This afternoon we have been learning about 'Dragon bones' which we found out were actually Oracle bones.
Oracle bones were used during the Shang Dynasty to foretell future events and then later used in medicine to help cure illnesses.
We then got the chance to make our own out of clay which we inscribed with Ancient Chinese symbols.
Friday 18th January
We have been learning about the lives of people during the Shang Dynasty.
Look at some of our fantastic Non-Chronological reports we produced.
Thursday 10th January
Today we wrote character descriptions for 'Razvani the Fire Fiend' from our class novel.
Have a read of some amazing examples!
Wednesday 9th January
This term we have started our new topic The Shang Dynasty Civilisation.
In Literacy we started our new novel The Firework Makers Daughter by Phillip Pullman.
We are really enjoying the story so far, ask us some questions about it.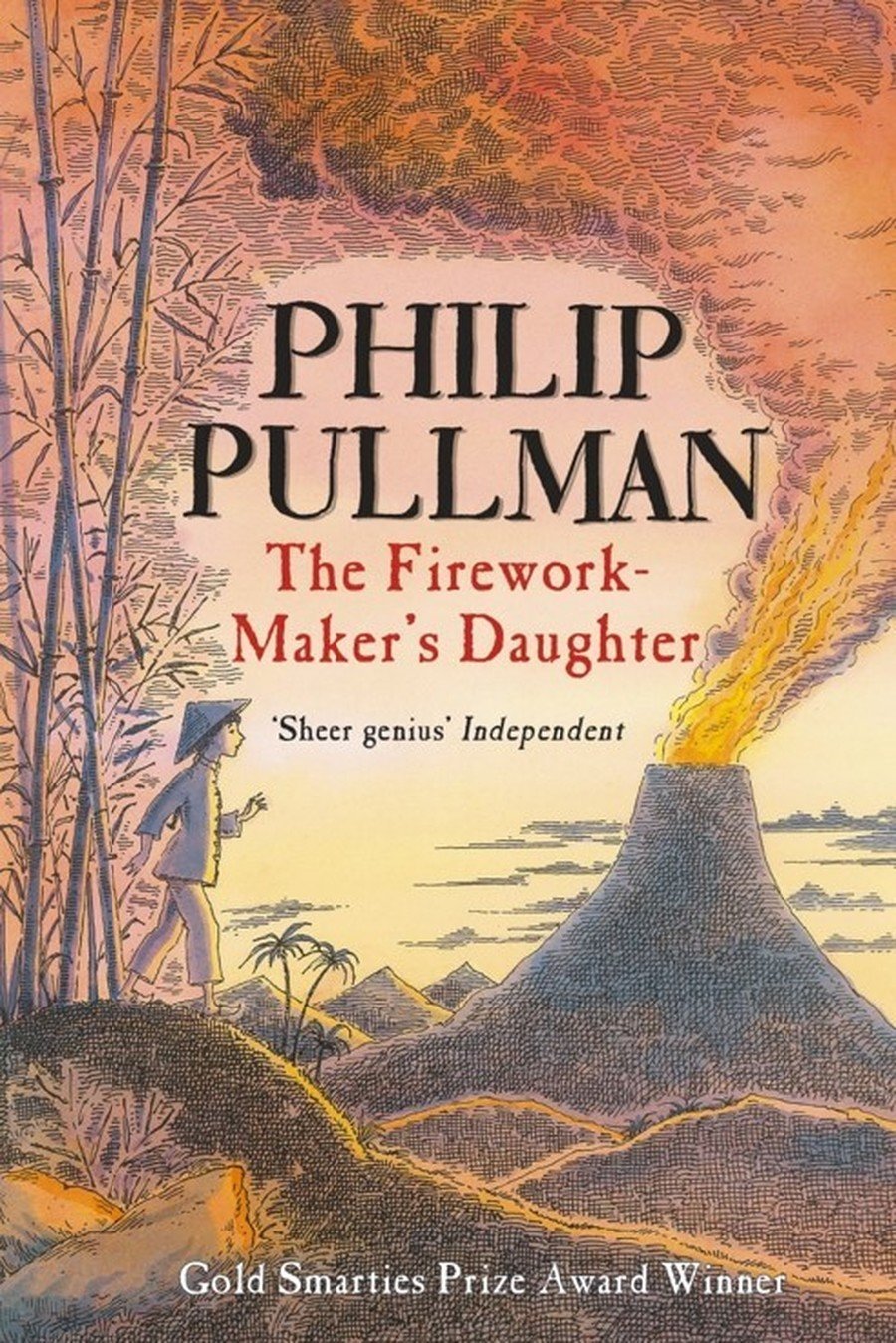 We will remember them...
This week we have celebrated Remembrance Day.
We have transformed our corridor with all of our amazing work.
Monday 5th November
This week we imagined that we were soldiers during WW1 and wrote letters back to our loved ones.
Some were uplifting and positive, some were heart-breaking, all of them were absolutely fantastic!
I am so proud of the level of maturity the children brought to their letter writing, well done Opal Class.
Here are a selection of our letters - click on the image to read them.
From the Beginning...
This half term we have been learning about the Vikings.
Have a look below at what we have been doing.
Wednesday 3rd October
This week in History we went back in time to Anglo Saxon and Viking Britain.
We created our own news reports on the Viking invasion of Lindisfarne Monastery.
Watch our videos below to find out all about the dreadful attack!
Friday 28th September
This afternoon we produced some amazing artwork of Viking Longships.
In Literacy we have been reading Viking Boy by Tony Bradman, ask us about the story!
In a few weeks we will be writing our own Viking stories, we hope you look forward to reading them.
Thursday 20th September
This week we started our new topic learning about the Anglo Saxons and the Vikings.
We worked as a class to produce this piece of artwork which we are all very proud of!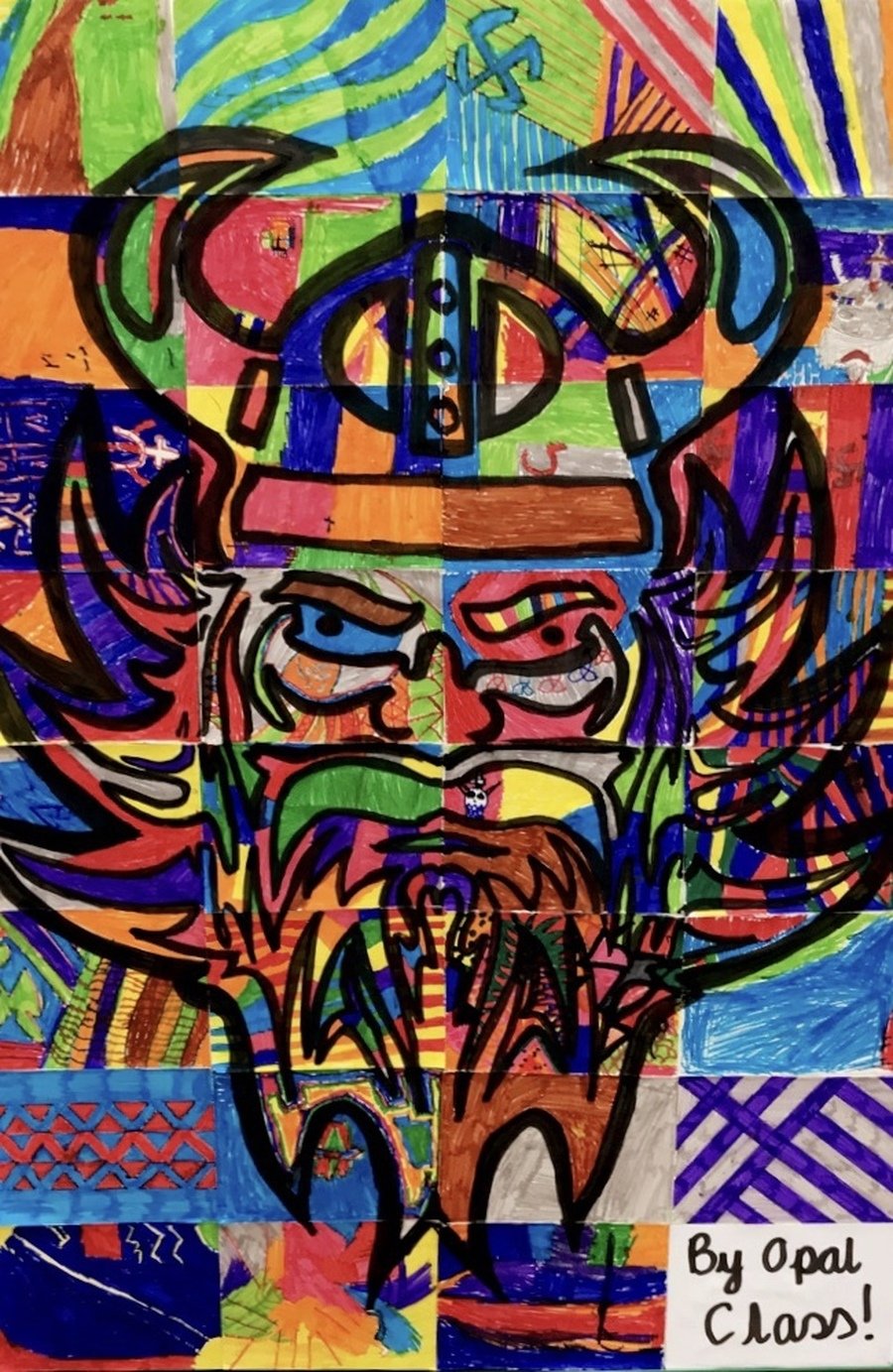 We have really enjoyed learning about 'The Lion King' as part of our Definitely Disney topic.
The children have produced some wonderful work in the last 2 weeks.
A wonderful start to the new school year, well done Opal Class!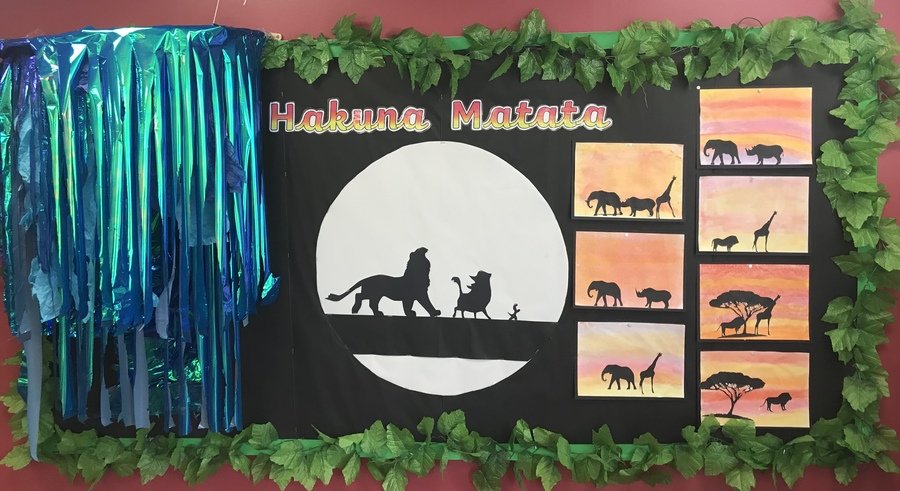 Displaying some of our incredible African sunset artwork.
Thursday 13th September
This week children in Opal Class have been focusing on descriptive writing in English.
Have a read below of some of the wonderful pieces of writing we have produced.
The Lion King by BW
In the scorching lands of Africa, the glistening exquisite horizon was dazzling on the beautiful thrilled animals, from a bug on a leaf to a wildebeest herd. Majestically, Mufasa, the strong, powerful lion king waved his stunning hairy mane to tell the amazing creatures that the new lion king was born! Zazu, the glamorous bird, soared swiftly into the air with wingspan as amazing and beautiful as the icy mountains in the distance. The considerate animals were surrounding the 10000 feet tall rock, Pride Rock where Mufasa and the royal family live. Rafiki, the wise baboon, was walking down the miniature path to praise the new king, Simba. Rafiki splashed some grape fruit on Simba's beloved head and held him up gracefully for the whole kingdom to see the new born king.
The Lion King by JR
The glittering sun beamed across Pride Rock while the animals raced across the land like a racing car to see the cute cub. The birds flew over the exquisite waterfall and the elephants stomped through through the diamond blue water. When the animals came to Pride rock they saw the flaming red main of Mufasa. Rafiki the baboon slowly walked up to the lovely cute cub and put grapefruit on the Cubs head. Meanwhile, Rafiki held the cub in his hands and proudly told the kingdom "his name is Simba!" All of the animals stomped around in joy for Simba.