Emerald Class
Welcome to our class page! We are the Year 1 children at Hetton Primary School and our teacher is Miss Redpath.
Take One Picture WB:29.04.19
This week the children in school are focusing their learning around a particular piece of art work.
We will be using Vincent Van Gogh and his 'Sunflowers'to create our own pieces that we will showcase in Hetton Art Gallery at the end of term!
Keep your eyes open for more information!
Our visit to Seven Stories in Newcastle!
Tuesday 23rd April 2019
In order to celebrate reading we were lucky enough to visit Seven Stories in Newcastle!
The children took part in a workshop based around Charlotte's Piggy Bank by David McKee! They enjoyed looking carefully at picture clues in the book as well as role play to support an understanding of the story.
Upon returning to school we focused our work on Elmer and decided to retell the story! What fantastic writing!
WB 18.03.19
This week we have used World Book Week as our focus. We focused on the wordless picture book 'Journey' by Aaron Becker.
The children have been fascinated that they can read the book in different ways and have different views on what is going on.
Ask your child to retell you the story!
STEM FORTNIGHT
WB: 04.03.19
This fortnight we have celebrated STEM fortnight. This celebrates all things 'Science, Technology, Engineering and Mathematics'.
We have been working on some scientific investigations in order to find out what plants need to grow - focusing on journeys.
For example: What journeys do plants move through as they grow? How does water travel through plants?
We have first explored how we can use cress to investigate what plants need to grow:
Investigation 1: We placed on the windowsill, providing sunlight and gave the seeds water daily.
Investigation 2: We placed in the dark and gave water daily.
Investigation 3: We placed on the windowsill, providing sunlight but no water.
I wonder whether you can guess which seeds are from which investigation!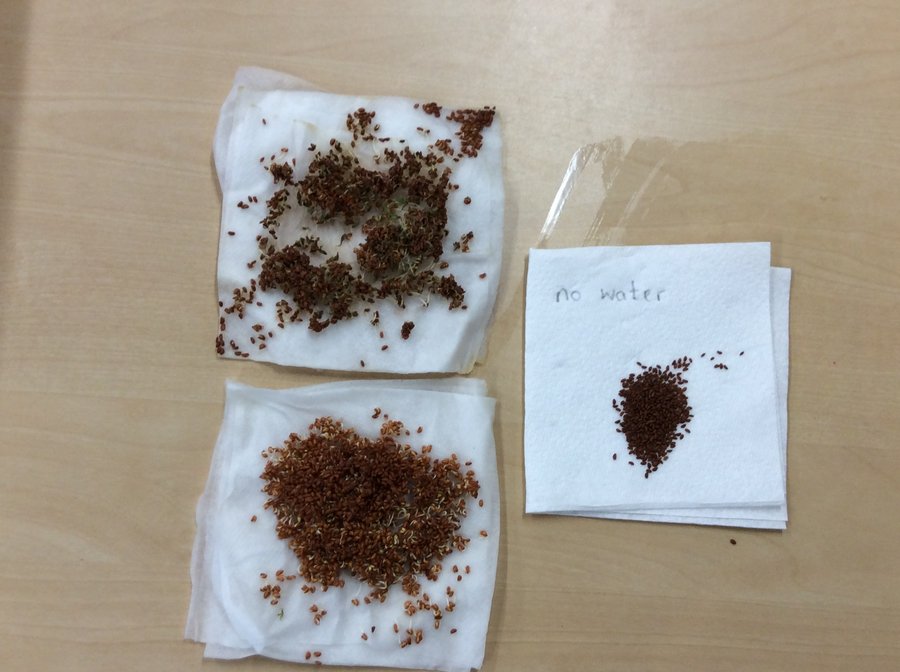 Our Victorian Afternoon Tea!
To celebrate the end of our 'All Dressed Up' topic, we held a Victorian style afternoon tea. What a fabulous turnout from parents! The children enjoyed making scones and sandwiches then shared information leaflets that recorded information they had learnt over the term. Well done Emerald Class!
Spring 1 - All Dressed Up - Queen Victoria
Week Beginning: 04.02.18
The children have now started learning all about FORCES during their Science lesson.
We have been focusing our work around pushes and pulls and have talked about how forces can be represented by arrows.
Ask your child if they can tell you how to represent a strong/weaker force!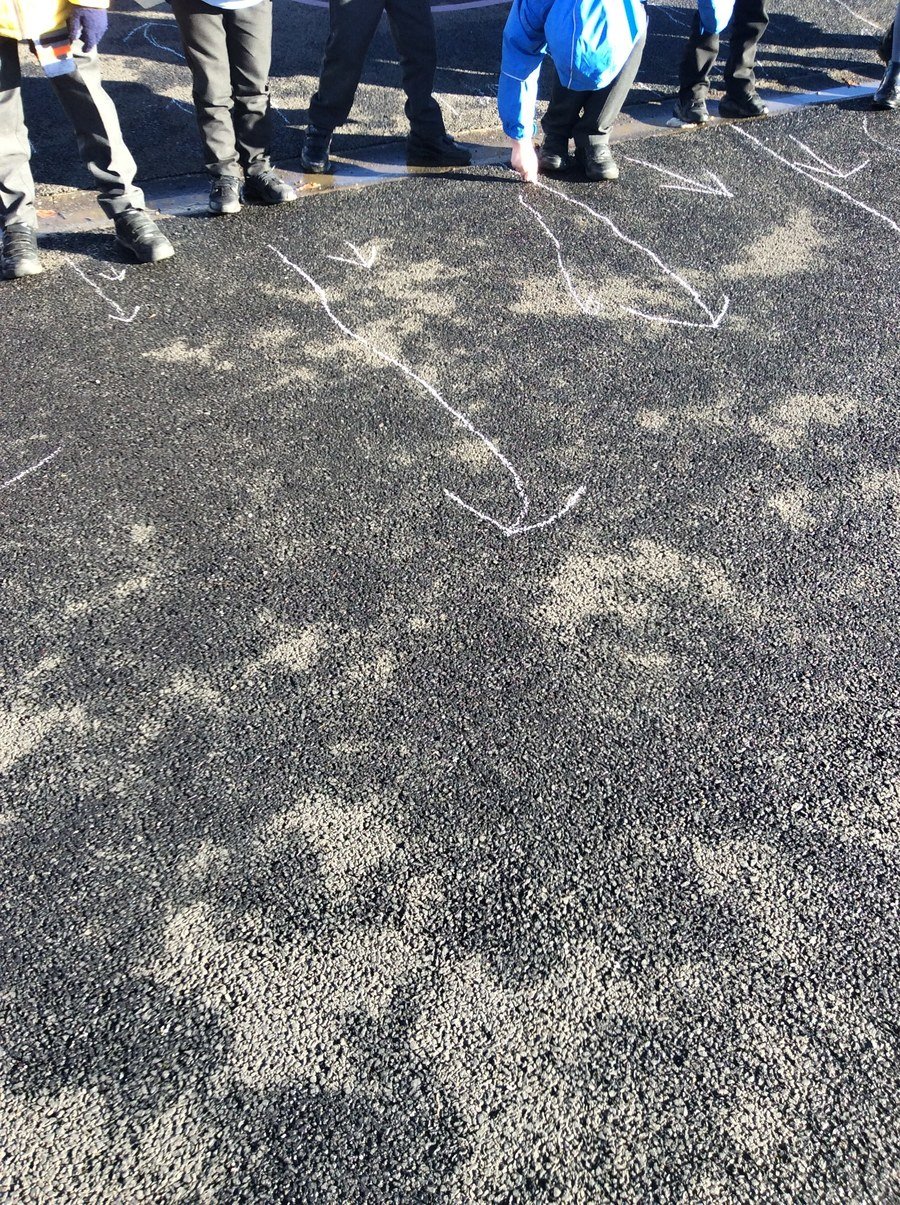 Week Beginning 28.01.19
What an amazing start to the week! We are really enjoying our Literacy topic based on The Three Little Pigs!
Today the children were getting prepared for writing their own set of instructions that tell us how to make a house for the pigs. The children have been asked to think carefully about the steps taken as they built them. They drew their characters and created puppets by cutting them out and sticking them on lolly sticks! The Year 1 team can't wait to read their step by step instructions!
Week Beginning 07.01.19
Today we have used the image below to create portraits of Queen Victoria. We first sketched these into our Art books and then explored using chalk on black paper to represent the picture being from a long time ago! The children were so focused on their work and looked carefully at the shapes to use. We talked about portraits only showing a person's head and shoulders and identified different parts of Queen Victoria's clothing e.g. veil, jewels and her crown! They are going to make a fantastic display!
Week Beginning 19.11.18
This week the children have started to recognise and name 3D shapes. We have used Kim's Game to support our visual memory and recall of shapes.
If you would like to use this game at home:
Place a number of 3D or 2D shapes in front of you, ask your child to close their eyes and remove one from the set. Can your child recall which shape has been removed?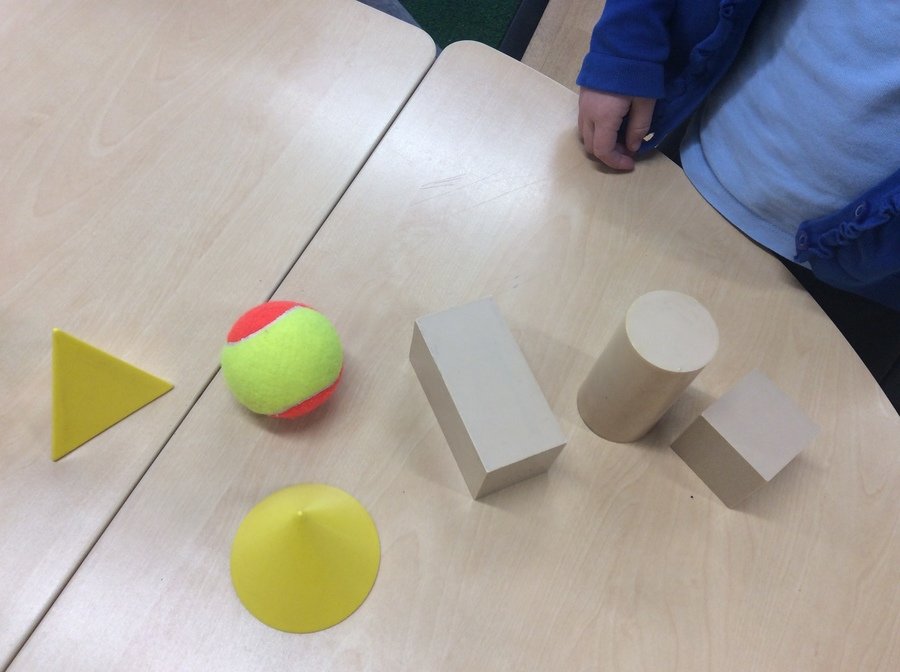 Autumn - Remembrance Week
Week Beginning 05.11.18
As a school, we are working on creating a huge Remembrance display to recognise the World War 1 Centenary!
The children have today created some beautiful artwork using fingerprints. Ask your children about some World War 1 facts!
Week Beginning: 29.10.18
What a fantastic start to the new term! This week we have been basing all of our learning around staying safe! We were excited to meet the Tyne and Wear Fire Service who gave us a tour of the fire engine and showed us various equipment that was needed to help people.
Please contact the fire service if you require a smoke detector or home safety check; the link is shown below
http://www.twfire.gov.uk/community-safety/prevention/your-home/hsc/#.W99Pa5P7TIU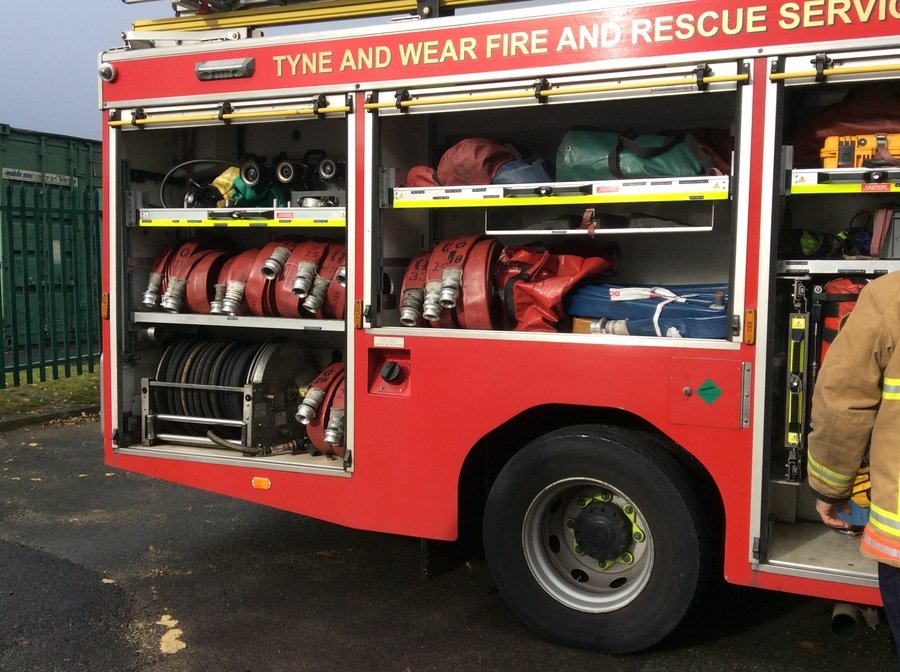 We have been looking at using sparklers safely! We identified the features of instructions and thought about how we could apply this to writing our own instructions. Look at an example of our work below!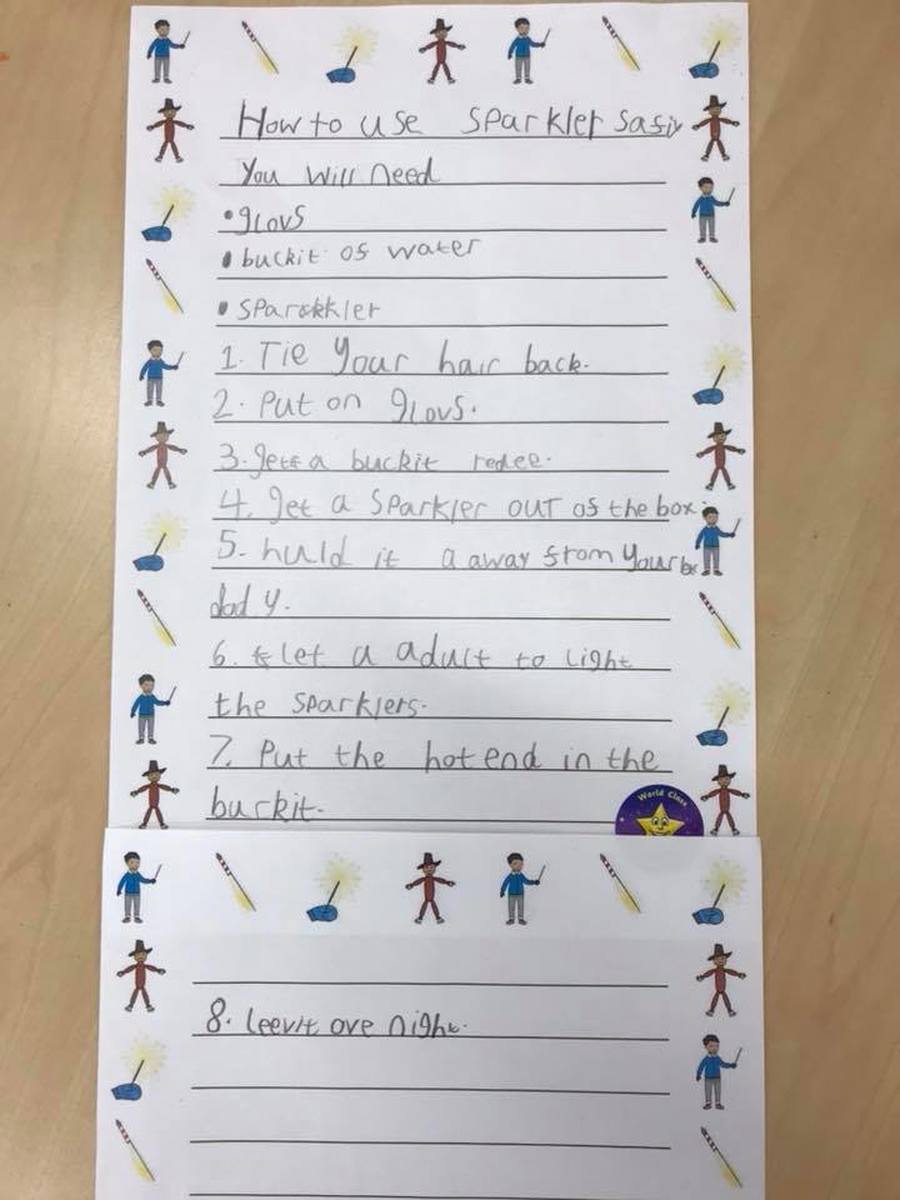 Autumn - Toys From The Past!
Week Beginning 08.10.18
Over the last few weeks, the children have been looking at the focus text Dogger by Shirley Hughes. They have retold the story, sequenced images and added captions as well as recorded their own retell. This week the children have innovated the story in the style of Pie Corbett; our children love this! They use images to support their oral rehearsal of sentences which then enables them to write their own sentences to retell. This is the story map we have used; ask your child to retell it to you using their story map!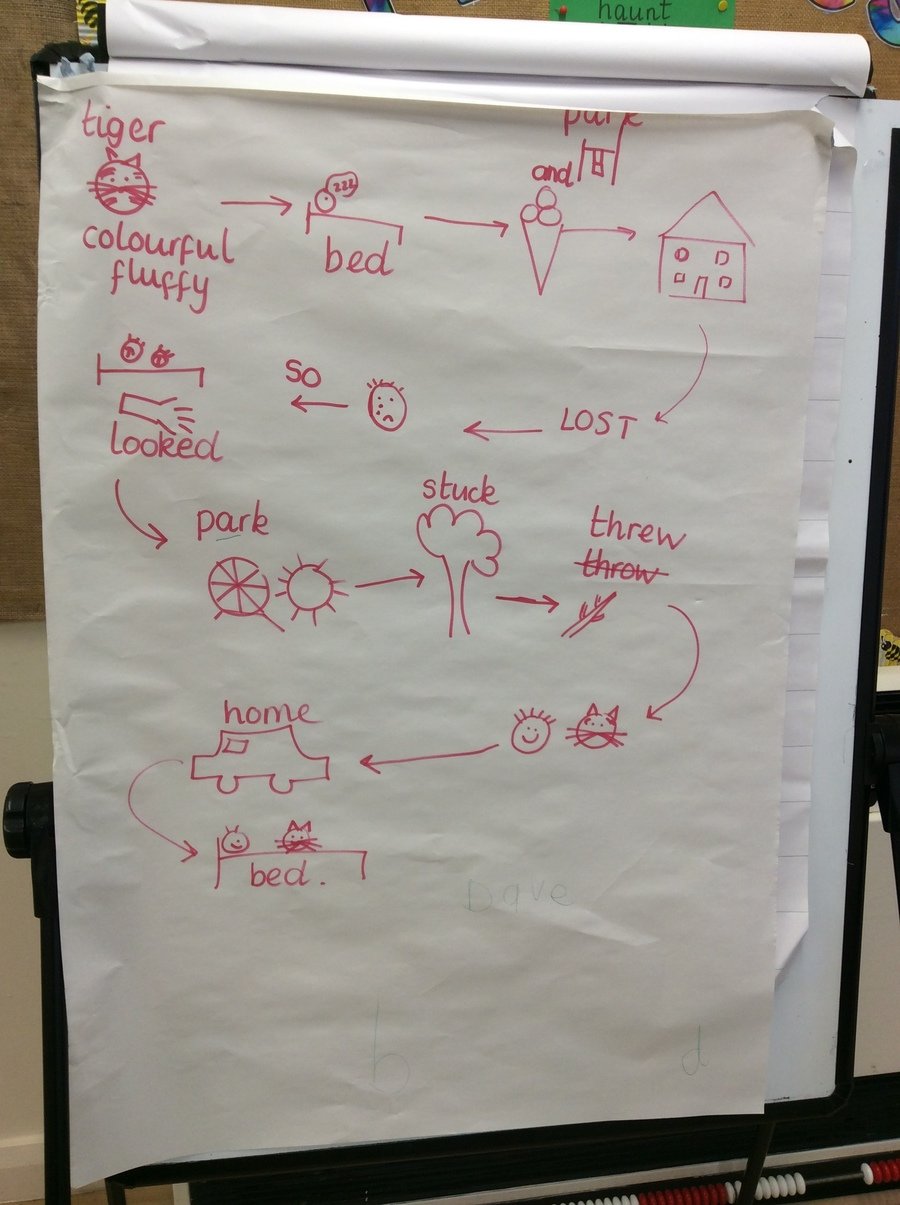 Tuesday 25th September 2018
In Science, we have been looking at everyday materials and their properties.
Today, some children went on a 'material hunt'. They used the Ipads to independently record what they find and were then able to talk about this upon returning to their table.
They found: glass, plastic and wood!
Thursday 20th September 2018
Over the next few weeks we will be using the focus text Dogger by Shirley Hughes.
Today the children used a busy picture of the Summer fair where Dogger is found. They worked in groups to begin to use question starters such as who, what, where, when & why.
There were some fantastic ideas which we added to our working wall!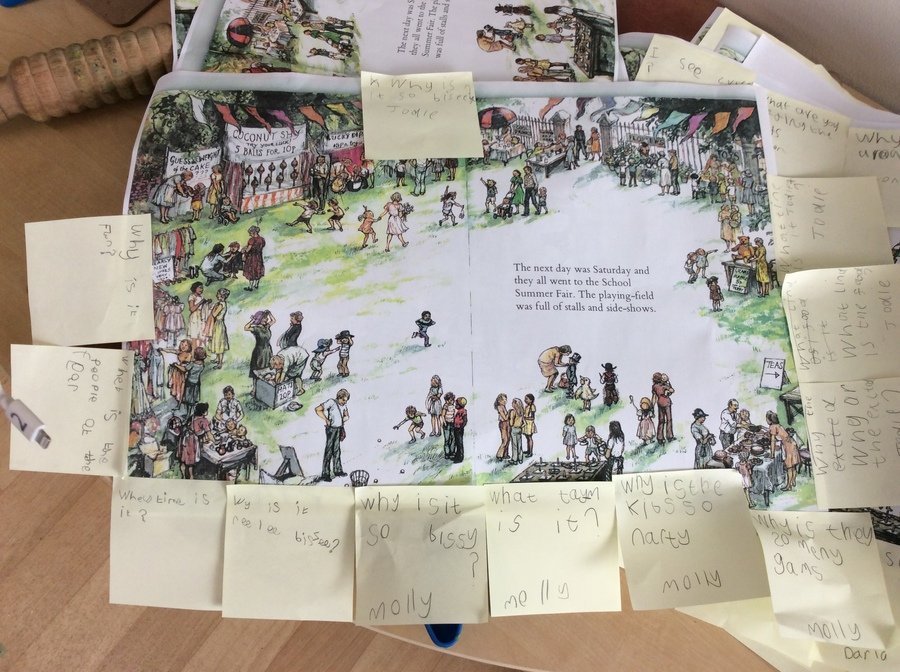 Friday 14th September 2018
We have enjoyed getting messy to practise our spellings today!
We put paint directly onto the tables and then practised spelling a range of tricky words , trying hard to use correct formation. The children definitely want to do this again!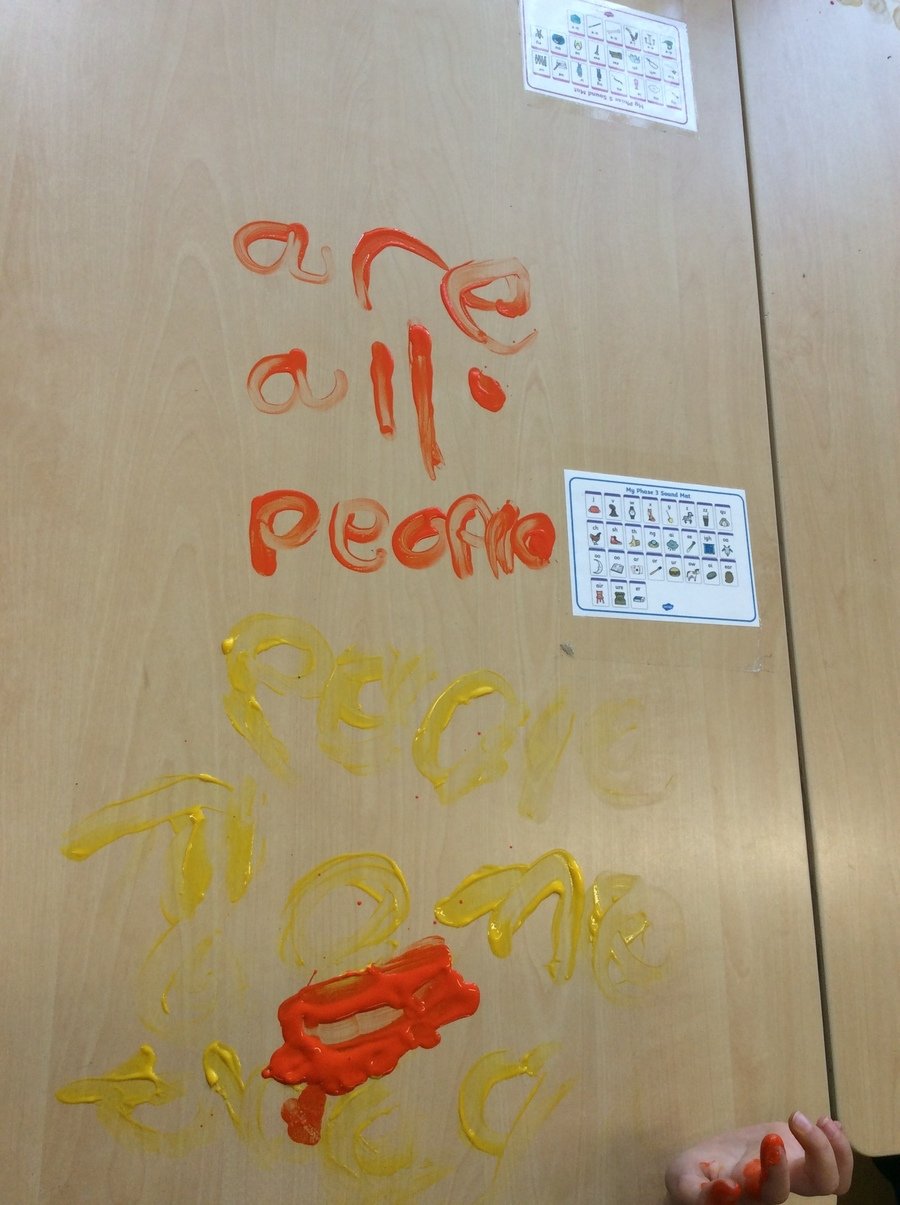 (DG)
Thursday 13th September 2018
For the first 2 weeks of the Autumn term, the children in Year 1 have linked all their work to the fabulous 'Mary Poppins'. Within our PE lessons, we have danced in time to music using 'Step in Time' and have talked about magic within our Literacy work. This week, the children have created some fantastic art work; they have created their own 'chalk pictures' in the style of chimney sweeps. Below are a few examples, I am sure you would agree that they look fabulous!
Well done Class Emerald!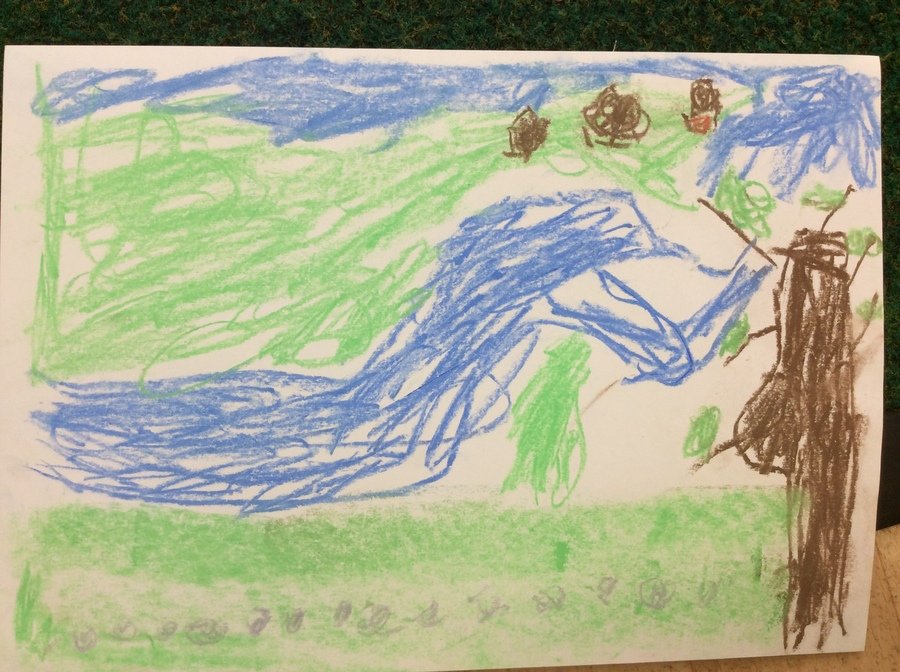 D
(DT)