Ruby Class
Welcome to our class page! We are the Year 2 children at Hetton Primary School and our teachers are Mrs Woodhall and Mrs Medhurst.
Wednesday 19th June 2019
Today Y2 learnt how to use a water filter to make dirty water clean enough to drink. We also learnt how important these filters are to people in countries like Africa and Kenya. We couldn't drink the dirty water because of all the germs it contained as it would have made us poorly but once we had put the water through the filter we could all have a drink. We learnt all about how lucky we are to have clean, running water every day.
Monday 10th June 2019
Today we took part in a super Art session making 'Wish Flags' for Hetton carnival. We had to decorate the flags with a hope or a dream or a wish. The flags do not have a hem so when they blow in the breeze the wishes and hopes and dreams escape into the air and hopefully come true.
Monday 10th June 2019
The school Nurses came into school and told us all about how germs spread. They taught us to wash our hands properly to stop germs spreading. They said we need to sing 'Happy Birthday' to ourselves twice while we wash our hands with soap and this is the right amount of time to wash our hands for to get rid of all the germs. We tried at lunch time and we are going to make sure we wash our hands properly all the time from today. We promised the nurses!
Year 2 LOVED Outdoor Classroom Day on 23rd May.
We put up tents, took photographs, cooked on stoves and made Micro-worlds. Our display in the porch as school shows you lots of our work and our photographs. .
22nd May 2019 Ruby's Art Gallery
Using the Picture 'A Sunday afternoon on the island of la Grande Jatte by Georges Seurat' as inspiration, Ruby class painted their own pointillism landscapes of the view from the school yard. They also designed and painted their own 'pointillism plates'. These were all on sale at school for £2 each. I am sure if you bought one of Ruby's works of art then they will be displayed in pride of place at home. If you didn't get a chance to buy your child's work of art then they can still be bought from school.
Sunderland University came in to do some work with us to show us we can be whatever we want to be!
STEM FORTNIGHT - week beginning 4.3.19
Liz Million visited school and taught us how to be illustrators. She showed us how to draw mad scientists and how to use simple shapes to make amazing characters. We loved spending time with her and learning how to draw like her and we were super proud of our own illustrations.
We used the Bloodhound SSC to focus all of our STEM work on. We looked at friction and speed and we looked at using parachutes to slow things down. We looked at flight and how to make things more aerodynamic. We loved all the designing, making, investigating, measuring and concluding that we did. We really felt like scientists and engineers and mathematicians for the STEM fortnight.
We made different kinds of flying vehicles to see which were more aerodynamic and what this told us about flight and being streamlined.
We designed and made our own moving vehicles and made them as streamlined as possible.
Year 2 loved dressing up as Mad Scientists to begin our STEM work.
All Dressed up!
This half term we are learning about Florence Nightingale - a significant person from our History who had a big impact in her time and who has influenced how our lives are today.
Our Florence Nightingale Showcase.
On Thursday 28th February we showcased all of our Florence Nightingale learning to our grownups. We performed our Florence song and our Florence dance where we used movement to tell Florence's story. We also lead our grownups, by lamp light, into our classroom where we bandaged them up and showed them all of our amazing work. We then took our grownups into the hospital canteen and served them vegetable soup (which we had made ourselves) and a glass of water just like the injured soldiers in Scutari Hospital would have had. We loved sharing our learning with our grown ups and we think they were super impressed with us and our knowledge of Florence.
4th February 2019
Here are a couple of our first drafts. Our knowledge about electricity safety is super!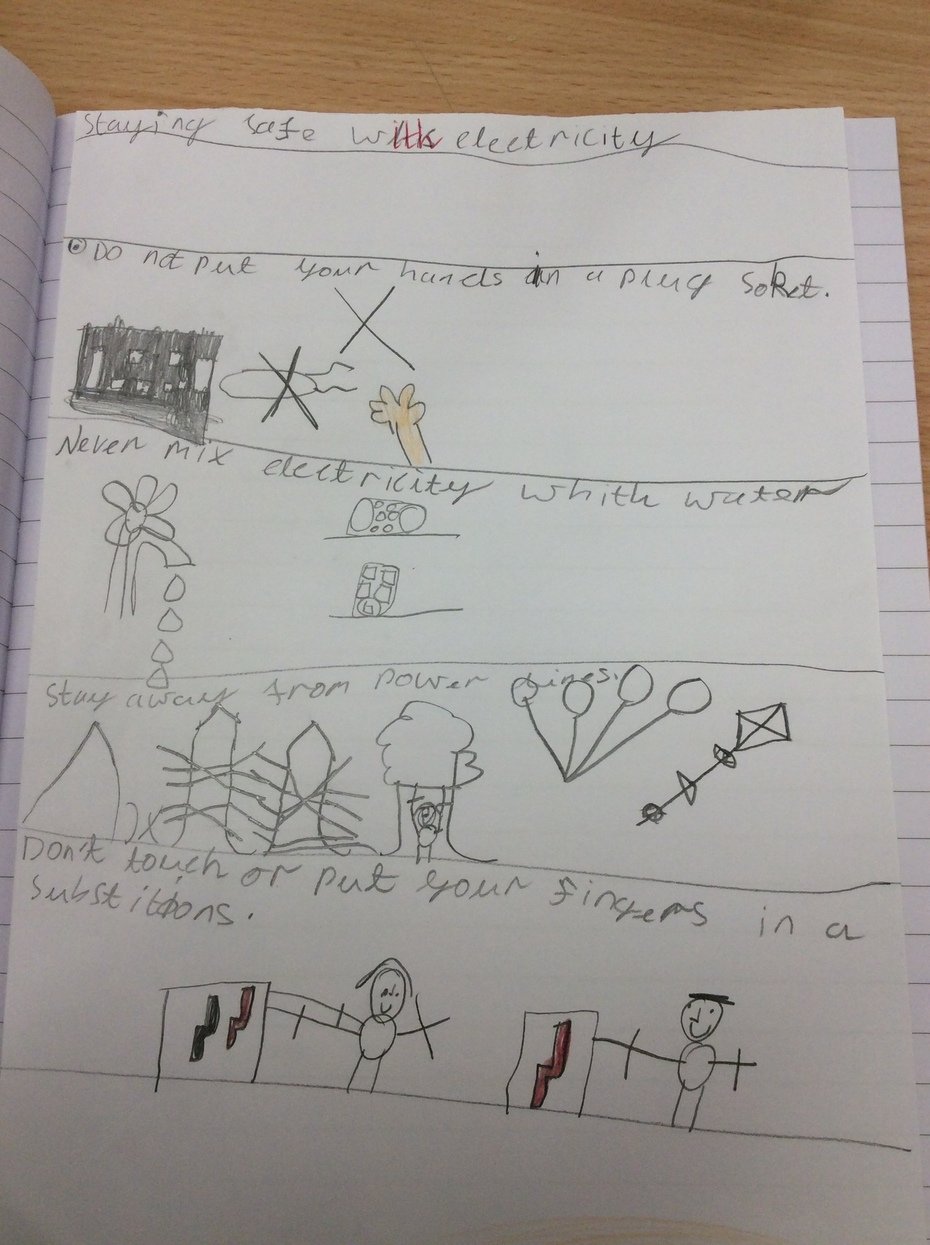 27th January 2019
In science we are learning about electricity so that we can make a simple circuit to make a lamp like Florence Nightingale used. This week we have made sure we understand the safety rules surrounding electricity. We used lots of different sources of information to find out and learn the rules and we looked at lots of different examples of safety posters before we made our own. Come and look in our science books to see the posters we designed and ask us how we stay safe around electricity. We will post some pictures when they are all finished.
Stay safe when around ELECTRICITY!
24th January 2019
In History Ruby Class are learning so much about Florence Nightingale. Ask us about all the facts we know. You will be surprised by what we can tell you. In Art we are looking at portraits and we are using Florence as our inspiration. We have drawn portraits in pencil and in chalk and we have looked at the work of Picasso and we have drawn portraits in blue and red tones to replicate his cold and warm period of art and we have also looked at his Cubism work and made Cubism portraits of Florence. We had great fun doing this although we are not sure our finished portraits resemble Florence much.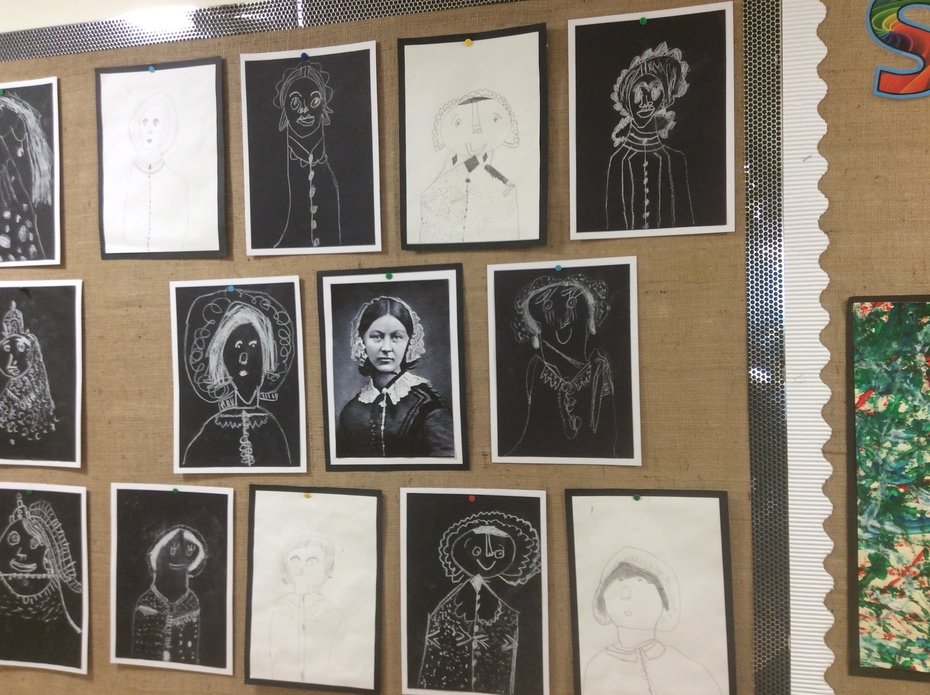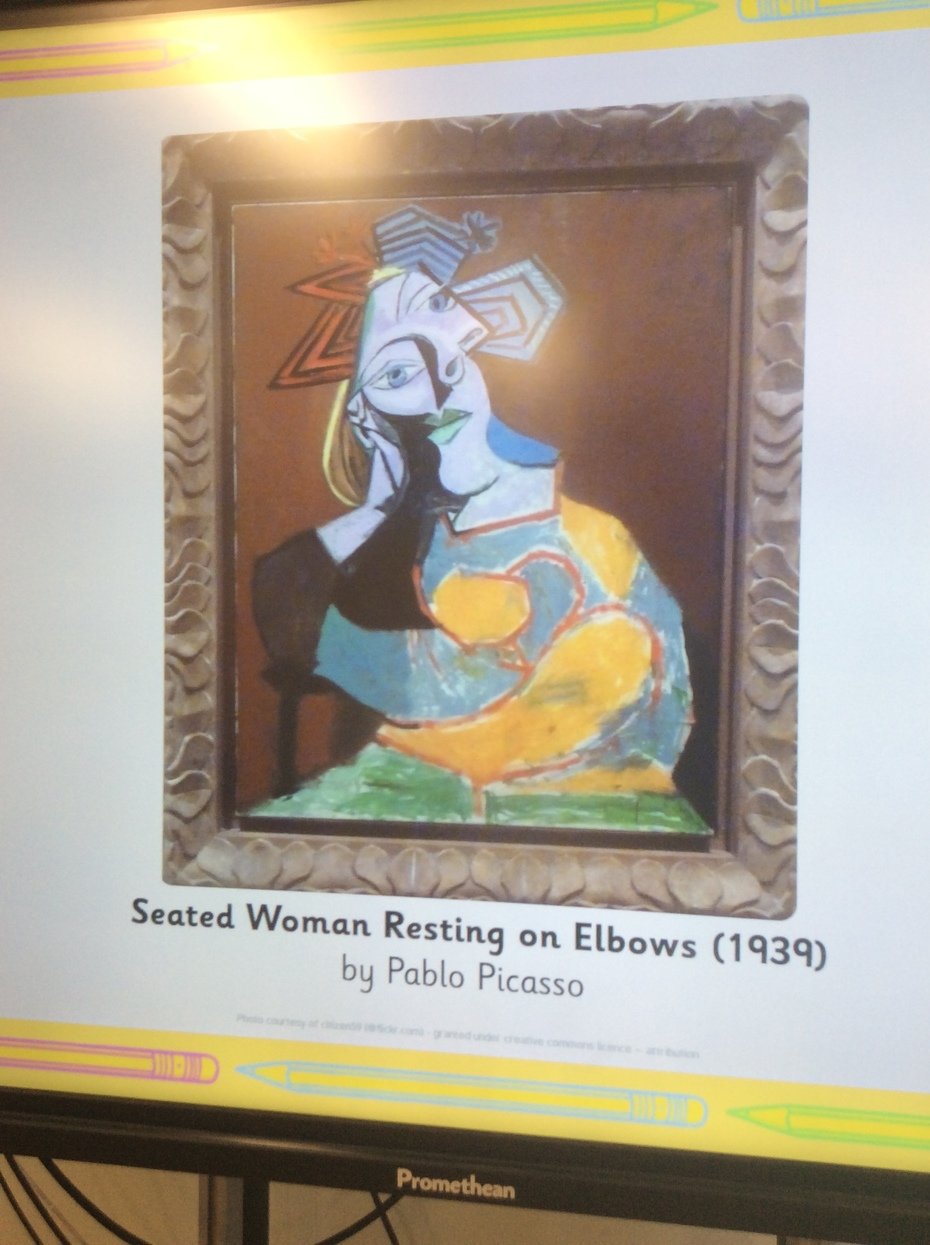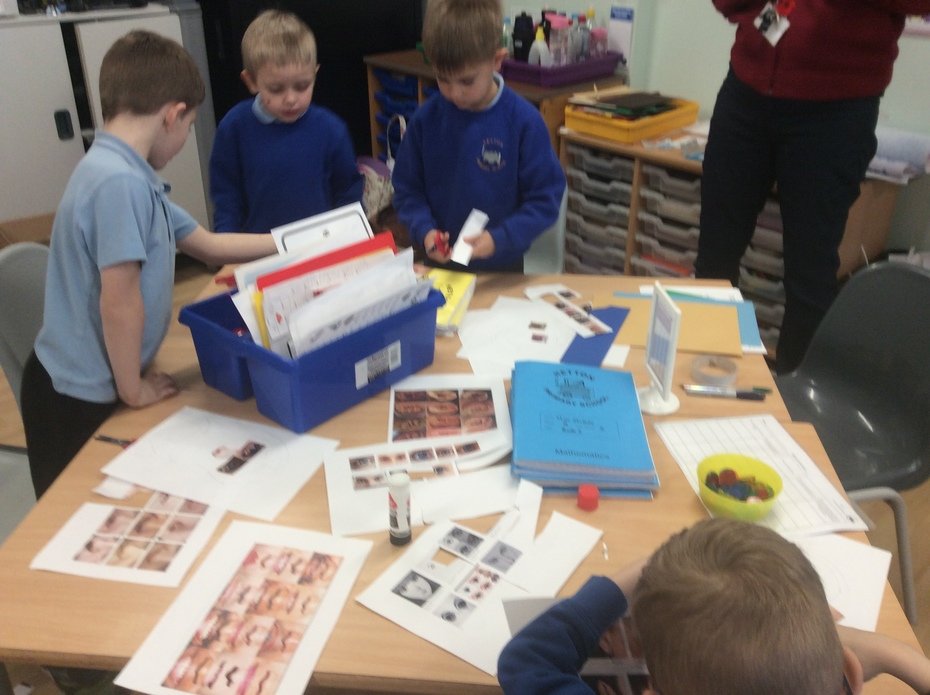 10th January 2019
We started our learning watching Magic Grandad. Before we watched this short film nobody in Ruby Class knew anything about Florence other than she lived a long time ago. After we watched the short film we knew lots and everybody is now curious and excited to find out more. We can't wait for our next History lesson. Watch this short program here to find out all about Florence.
Magic Grandad - Florence Nightingale
Pictures of Florence Nightingale
From A to B
5th November 2018
This week the whole school have based their English work on the Cbeebies poppy film linked to Armistice Day. Each class watched the film and produced their own piece of writing based on how they interpreted the film. Ruby class told the story through the eyes of the rabbit and produced some excellent, emotive pieces of writing. Here is a peek at one piece of writing from Ruby Class. Pop into our class to see more or have a look in our Poppy themed porch. Follow this link to watch the video clip https://www.bbc.co.uk/cbeebies/watch/poppies .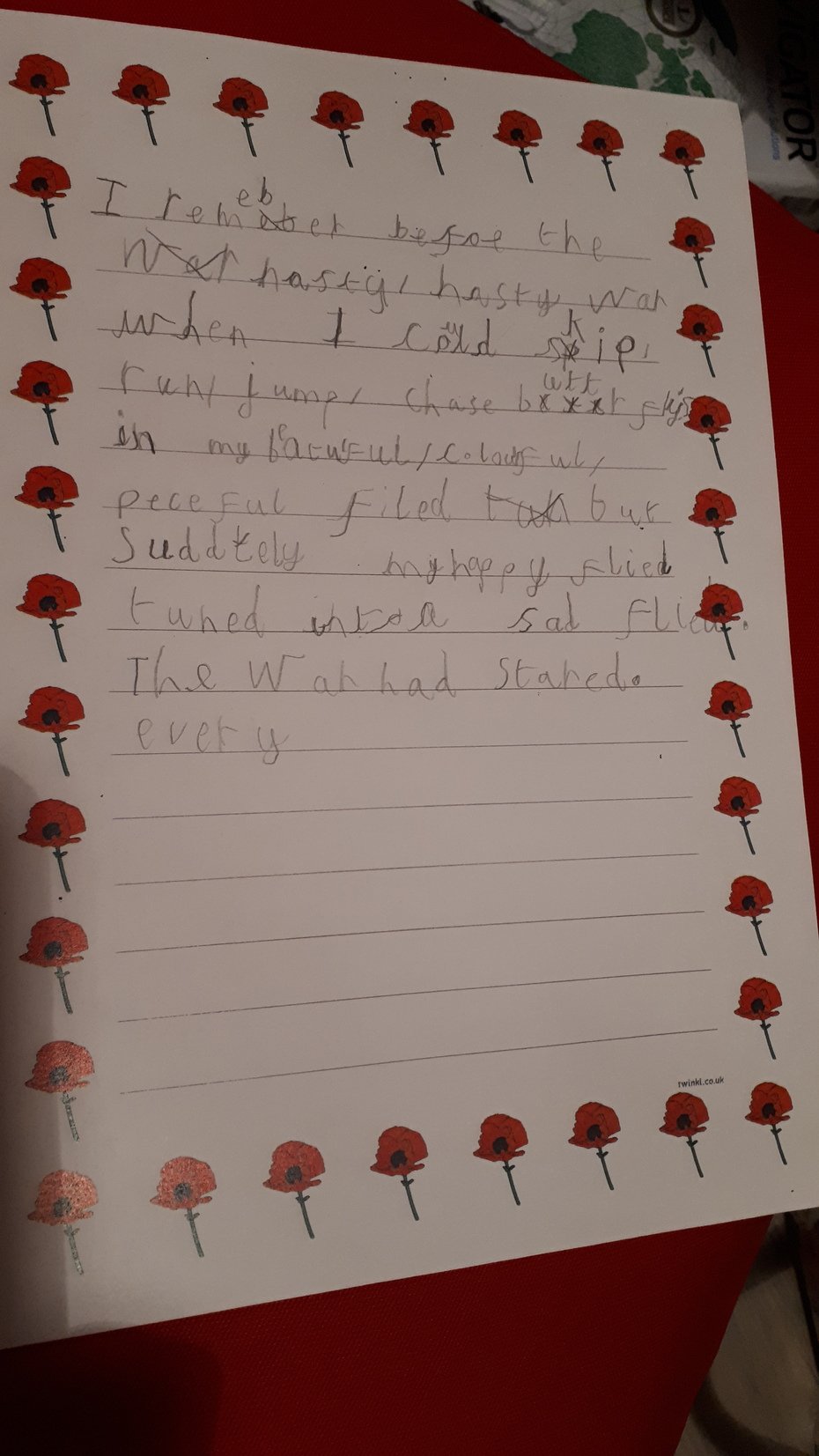 Autumn 2: 29th October 2018
We started this new half term with Safety week where we learnt about all kinds of safety. We learnt about Fire Safety with a super visit from the Fire Brigade. We learnt about animal safety with a super talk about being safe around dogs and Ruby Class focused their English work for the week on Road Safety and The Green Cross Code. Look in our English Books for some of the super instructions we wrote.
The Great Fire of London
Wednesday 17th October 2018
This term Ruby Class have been learning all about The Great Fire of London. We know so much about the event and what happened and we have really enjoyed all our learning about this significant event in our History. We ended our learning by creating our own Pudding Lane, the street in which the Great Fire started. We really enjoyed combining the different materials and measuring the black strips accurately to create our houses. We think out Pudding Lane looks amazing!
Our Unexpected Post
Thursday 11th October 2018
Today Ruby Class received some unexpected post.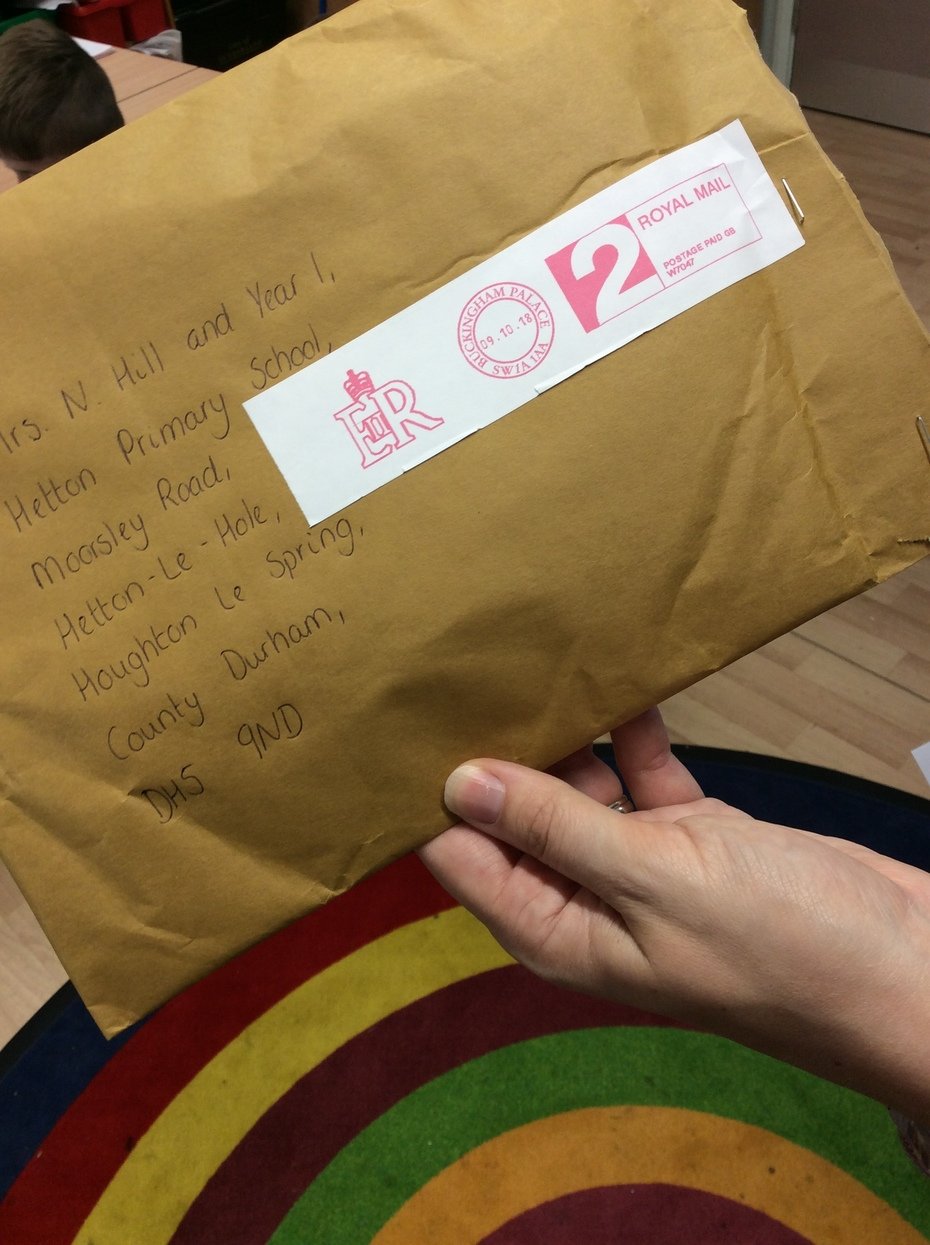 It was a letter from Kensington Palace.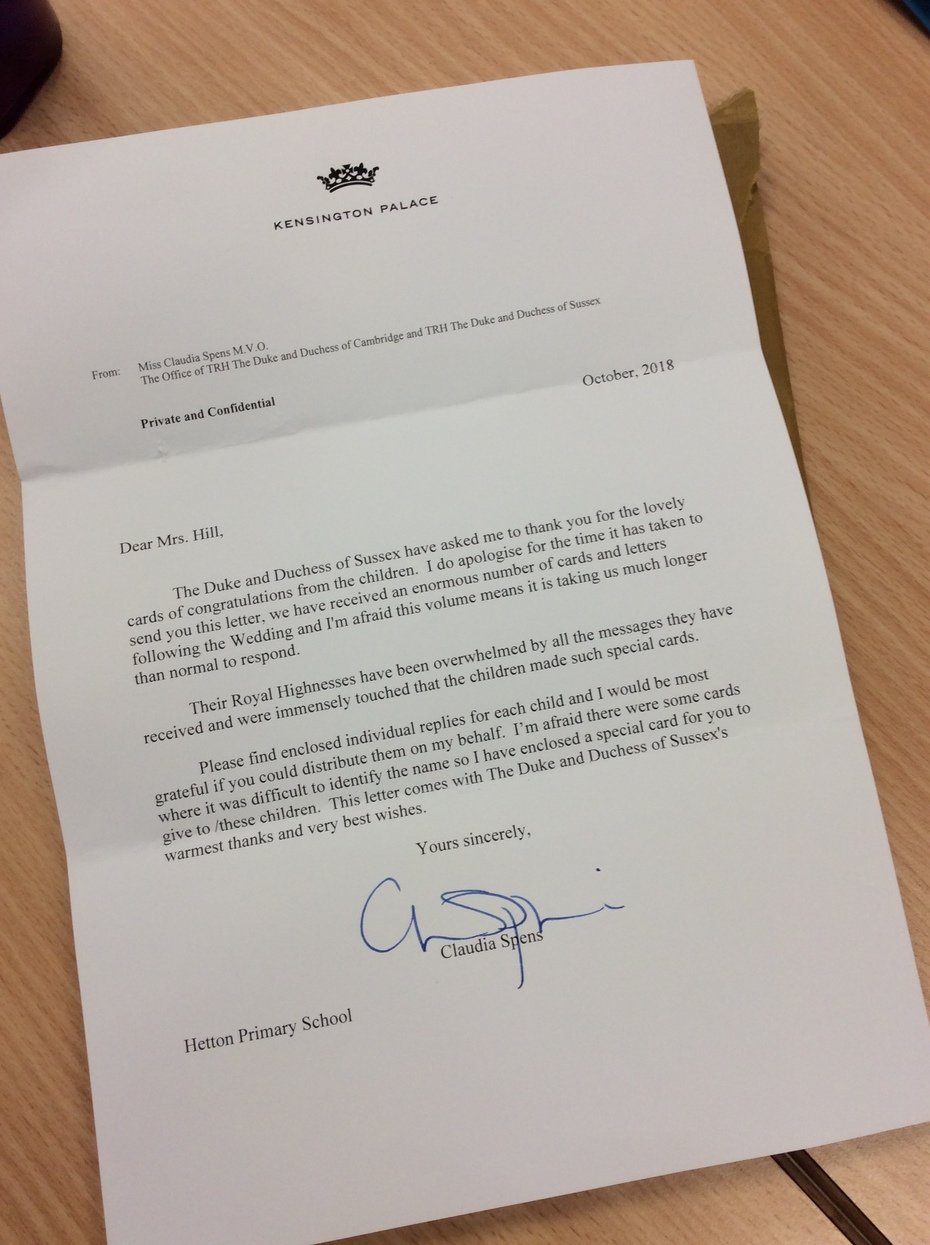 Last term, when we were all Year 1, we designed and made Wedding Cards for Harry and Meghan and Miss Thornes sent them to the Palace. Today we all received some special post and when we opened the envelope we all had our own individual replies for Kensington Palace and The Duke and Duchess of Sussex. We were so excited and so pleased that they loved our cards. We couldn't believe it....our own post from Royalty! We are all going to treasure our replies.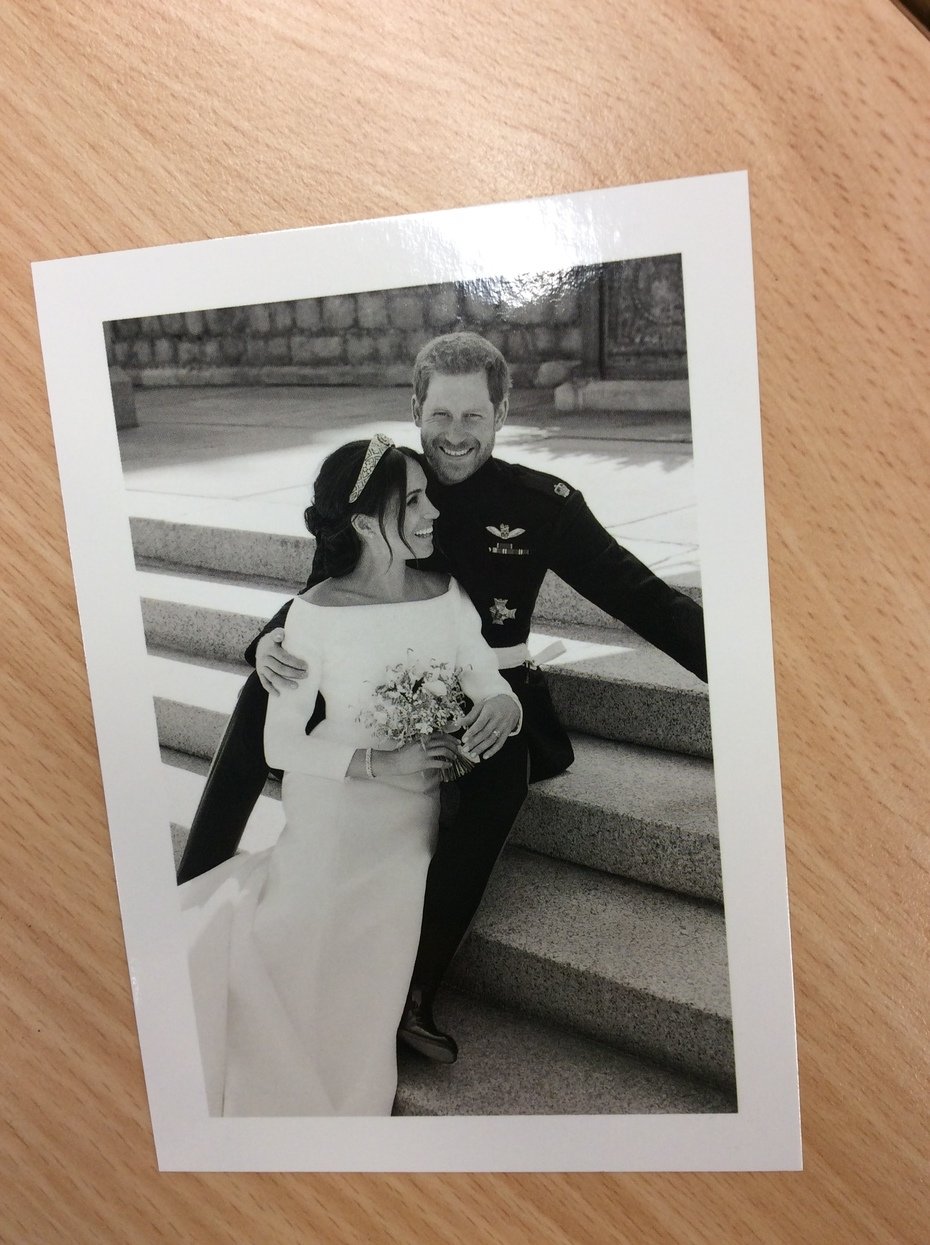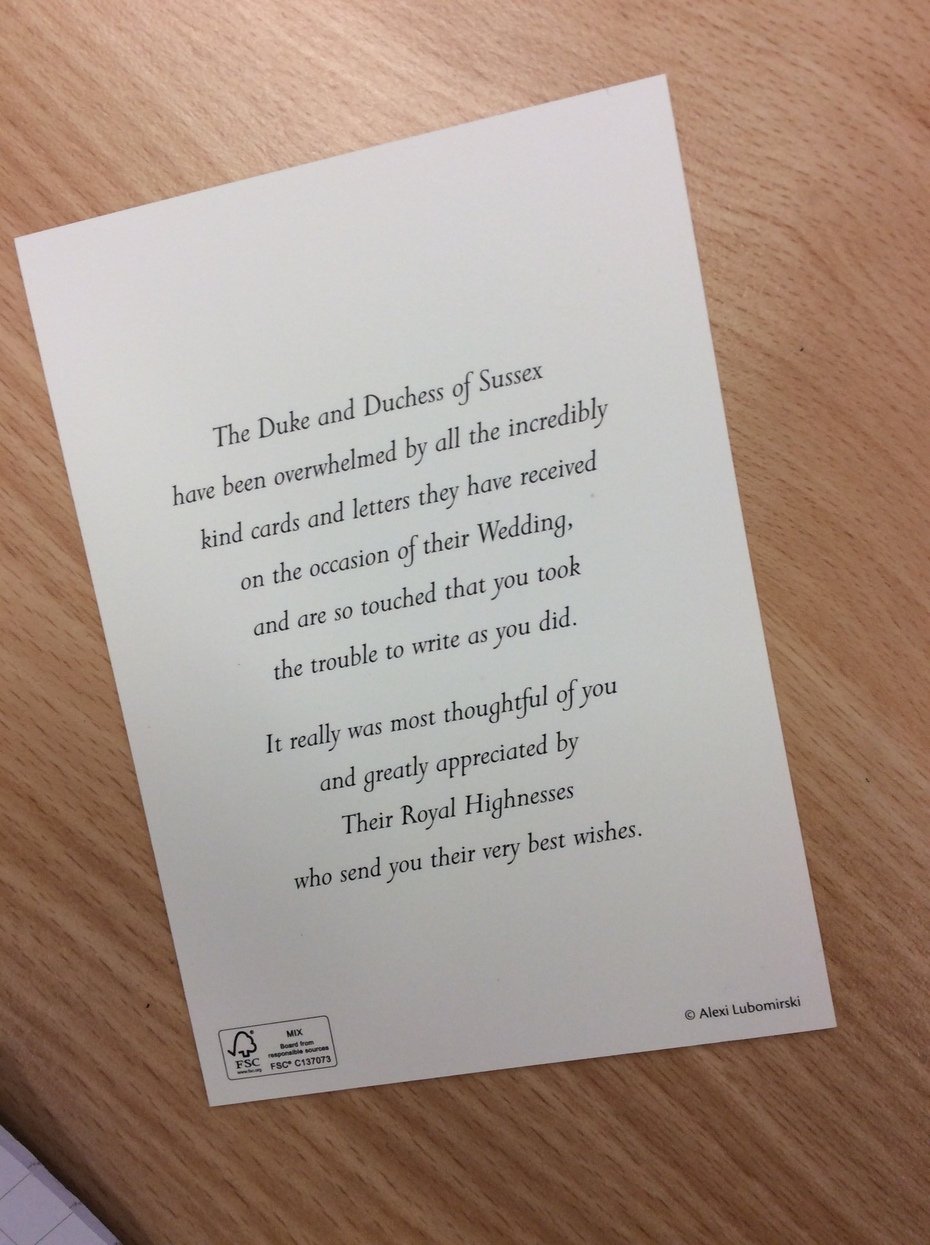 Our visit to St Michaels and All Angels Church
Tuesday 25th September 2018
In class, Ruby Class have been learning all about some of the religious features and artifacts that can be found inside a church and how they link to the Christian religion. We visited St Michaels and All Angels church in Easington Lane on 25th September to see if we could find all the features we had been learning about in class inside a real church. We had a super visit and the church was amazing. Graham helped us find out even more about churches. Ask us what we know - we will surprise you with our super knowledge!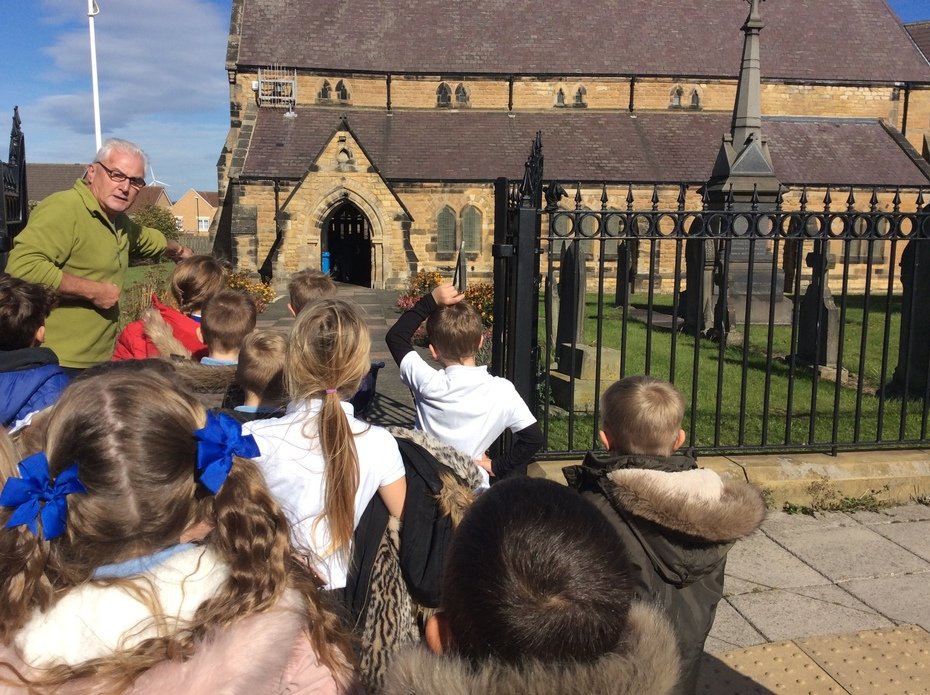 Wednesday 12th September 2018
For the first 2 weeks of term, all of our Year 2 work has been linked to the fantastic Disney film 'Toy Story.' In science we looked at how we could make Buzz Lightyear fly. We used balloons and string, using the force of the air coming out of the balloons, to make Buzz fly. This was super fun but we decided what Buzz really wanted was his own rocket so he could fly 'to infinity and beyond!' Today, we designed and made rockets to help Buzz Lightyear fly 'to infinity and beyond!' Have a look at our creations. We think Buzz would love them all.